SOLAR COLA - Label for the cola based classic drink, using kola nuts in the mix, to add something special to the thirst quenching beverages. Now the IP of COF Ltd.

John Storm is partial to Solar Cola™ and Solar Tonic™, both brands are refreshing beverages with medicinal, almost magical rejuvenating qualities. For this reason they are sometimes referred to as The Fountain of Youth. But in fact the energy drinks are a precise formulation of delicious natural flavorings, vitamins and minerals, that help the healing process.
John first used Solar Cola as a healing supplement, when Kulo-Luna was in critical condition. Giving up crates of his favourite drink to save the giant humpback whale. Blissfully, and somewhat mysteriously, Kulo-Luna's harpoon wound healed rather well, and her calf was born unaffected by her ordeal. After which, John refers to the fortified energy drinks as: The Fountain of Youth.
In this fictional series, John and Patricia use Solar Tonic to help Pope Peter Benedict recover from stage 4 cancer, having administered a custom engineered CRISPR virus to modify the Pontiff's DNA.
The Pope recovers, much to the amazement of the media, who had him down as a victim of the disease that takes so many humans every year. Much of which is down to the toxic environment mankind is making for generations to come.
John is an obsessive collector of DNA, stored in The Ark, the world's most powerful interactive digital DNA library. John eats and drinks well to keep him in tip-top condition. Being super enhanced, he needs more protein and supplements than the average person.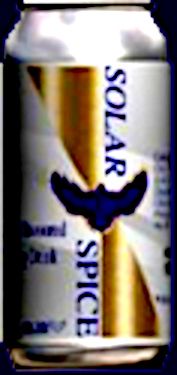 SOLAR SPICE - Representations of the cans for Solar Cola and Solar Spice. John Storm stock the Elizabeth Swan by the crate. He is so fond of the life sustaining drink. Especially for emergencies.
THE HOLY COMPASS - CAST
| | | |
| --- | --- | --- |
| PROTAGONISTS | - | DESCRIPTION |
| - | - | - |
| | - | The world's most comprehensive digital interactive DNA database |
| | - | A brain implant that allows communications with digital devices |
| | - | |
| | - | An advanced solar & hydrogen powered trimaran ship |
| | - | The COLREGs compliant autonomous navigation system on ES |
| | - | The artificially intelligent AI onboard the Elizabeth Swann |
| | - | The Swann's weapons (Excalibur & Pendragon) targeting system |
| | - | The lead character in this adventure series |
| | - | The reincarnated, former Queen Cleopatra, Pharaoh of Egypt |
| | - | Computer genius, programmer and electronics design |
| | - | Storm's hybrid Cherokee 4x4, classic vehicle conversion |
| | - | The ship's cat, sacred Temple animals, Ancient Egyptian |
| | - | The Bishop Supreme, Catholic Church, The Vatican |
| | - | A brand of healthy beverages, John Storm is partial to |
| | - | UK's leading politician (Honest Johnson) a truthful candidate |
| | - | Supreme Commander, US military |
| | - | John's inventive genius uncle |
| | - | John's mentor, a solicitor with Swindles & Gentry |
| | - | An investigative reporter and good friend to John |
| | - | BBC TV worlds news service presenter |
| - | - | - |
| ANTAGONISTS | - | DESCRIPTION |
| - | - | - |
| | - | Chief Constable, Scotland Yard (corrupt cop) |
| | - | MI6, head of human enhancement |
| | - | CIA, sometimes double agent |
| | - | The world's richest, most powerful man (civilian) |
| | - | Italian spy Vatican & Interpol, double agent |
| | - | Cashiered, ex, US Navy Captain, snitch & mastermind |