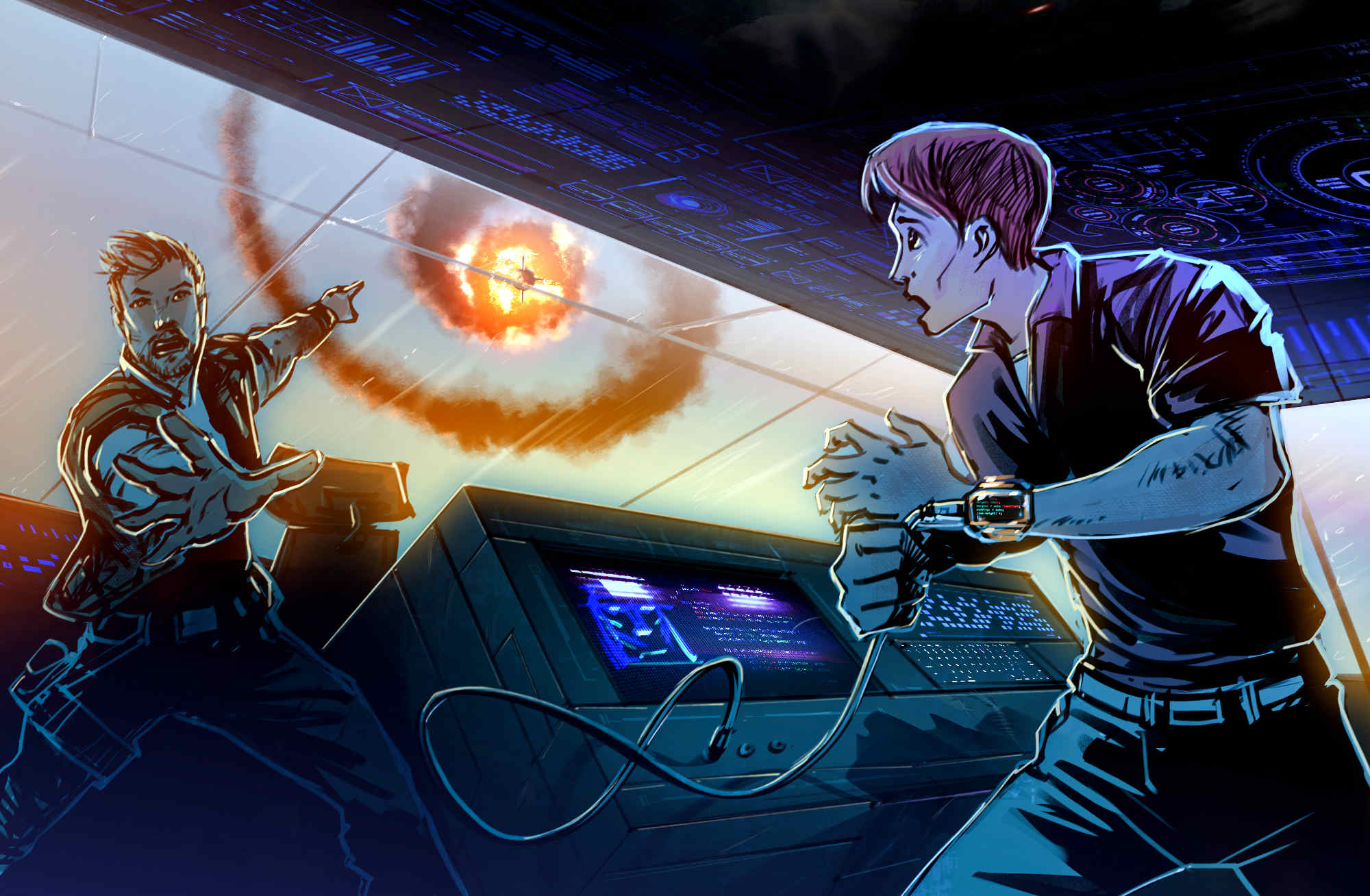 John Storm and Dan Hawk at the helm of the Elizabeth Swann, under missile attack from CIA

Dan Hawk is John Storm's best friend, loyal above and beyond, and the youngest crew member of the Elizabeth Swann. He is a computer genius and accomplished hacker, as it turns out. He also designs electronic circuits, especially for robots. But also for convenience electronics, by way of a hobby.
When Jamaica, Spain, Panama and the United Kingdom, make claims against the discovery of one of Captain Morgan's thirty-six ships, in a location that John refuses to disclose, citing his Article 10 and 11 human right, as per the Universal Declaration, the right to a Fair Hearing, and to be Presumed Innocent, Dan is called on to hack the computers of the Claimants. Whereupon, Hal's analysis of their machines, reveals that they cannot identify the precise origin, or the makeup of any treasure trove that may be onboard. Nor the location of the wreck. This information is part of the reason John wins that case. Whereas, in 2011, one of Captain Morgan's ships, his flagship Satisfaction, was discovered off the coast of Panama, and became the property of the Panamanian Government. Notably, Peru and Mexico, waived all rights, happy that John would do the right thing.
In this fictional episode of the ocean and climate awareness series, 'Dan' administers a custom engineered CRISPR virus to modify the Pontiff's DNA. Then Patricia nurses Pope Peter Benedict to recovery from stage 4 cancer.
With the Pope so weak, it is touch and go if he still has the strength left to respond. Dan and John recall when they rescued the giant humpback whale; Kulo-Luna. How, she really picked up after they fed her a couple of crates of Solar Cola. John and Dan's favourite drink when they are parched.
As a result of the team effort, the Pope recovers, much to the amazement of the media, who had him down as a victim of the disease that takes so many humans every year. Much of which is down to the toxic environment mankind is making for generations to come.
Meantime, the wealthy Musket Meloni, tries to hack into Captain Nemo, and Hal. A Cyber War ensues, with the richest man in the world throwing all his resources into trying to take control of the Elizabeth Swann. And, he is winning. Meloni manages to plant a virus in Hal, that almost succeeds in stealing data from The Ark. Fortunately, Dan uses the CyberCore Genetica™ to reverse the virus, Enigma fashion, feeding the Billionaire bogus information.
...
THE HOLY COMPASS - CAST
| | | |
| --- | --- | --- |
| PROTAGONISTS | - | DESCRIPTION |
| - | - | - |
| | - | The world's most comprehensive digital interactive DNA database |
| | - | A brain implant that allows communications with digital devices |
| | - | |
| | - | An advanced solar & hydrogen powered trimaran ship |
| | - | The COLREGs compliant autonomous navigation system on ES |
| | - | The artificially intelligent AI onboard the Elizabeth Swann |
| | - | The Swann's weapons (Excalibur & Pendragon) targeting system |
| | - | The lead character in this adventure series |
| | - | The reincarnated, former Queen Cleopatra, Pharaoh of Egypt |
| | - | Computer genius, programmer and electronics design |
| | - | Storm's hybrid Cherokee 4x4, classic vehicle conversion |
| | - | The ship's cat, sacred Temple animals, Ancient Egyptian |
| | - | The Bishop Supreme, Catholic Church, The Vatican |
| | - | A brand of healthy beverages, John Storm is partial to |
| | - | UK's leading politician (Honest Johnson) a truthful candidate |
| | - | Supreme Commander, US military |
| | - | John's inventive genius uncle |
| | - | John's mentor, a solicitor with Swindles & Gentry |
| | - | An investigative reporter and good friend to John |
| | - | BBC TV worlds news service presenter |
| - | - | - |
| ANTAGONISTS | - | DESCRIPTION |
| - | - | - |
| | - | Chief Constable, Scotland Yard (corrupt cop) |
| | - | MI6, head of human enhancement |
| | - | CIA, sometimes double agent |
| | - | The world's richest, most powerful man (civilian) |
| | - | Italian spy Vatican & Interpol, double agent |
| | - | Cashiered, ex, US Navy Captain, snitch & mastermind |