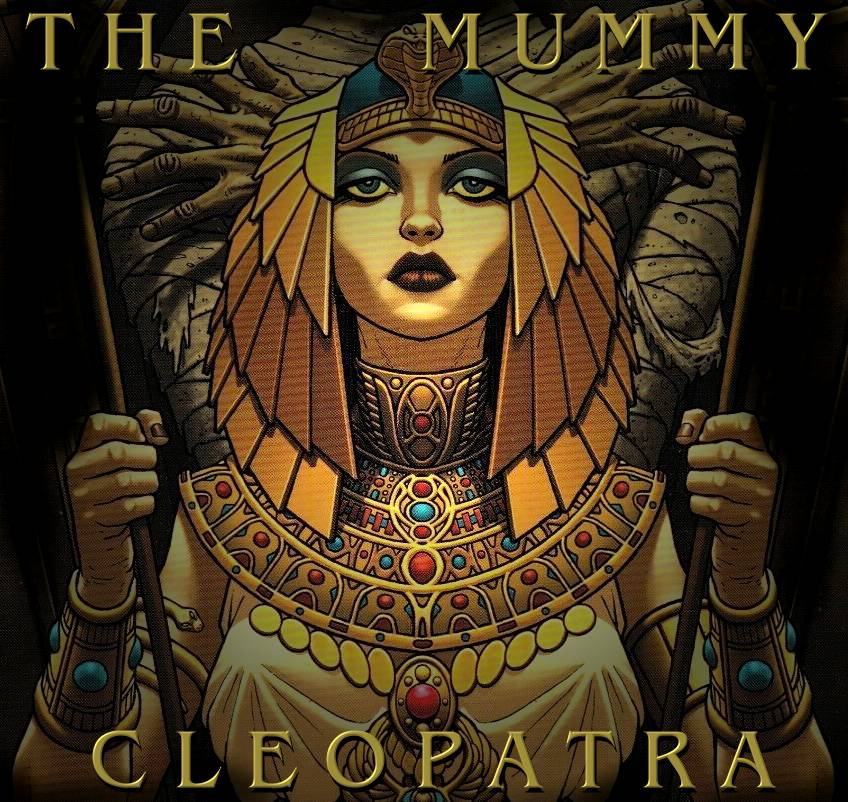 Cleopatra VIII, reincarnated Queen of Egypt

Patricia Leopard is the secret identity for Cleopatra, the digitally reincarnated Pharaoh Queen of Ancient Egypt. Most of the time this is sufficient to allow her to crew the Elizabeth Swann, provided that she dresses down and does her hair differently to when she was the goddess Isis, some 2,000 and more years ago in Egypt.
In this fictional episode of the ocean and climate awareness series, 'Patricia' nurses Pope Peter Benedict to recovery from stage 4 cancer, having helped John Storm and Dan Hawk administer a custom engineered CRISPR virus to modify the Pontiff's DNA.
With the Pope so weak, it is touch and go if he still has the strength left to respond. Dan and John recall when they rescued the giant humpback whale; Kulo-Luna. How, she really picked up after they fed her a couple of crates of Solar Cola. John and Dan's favourite drink when they are parched.
Onboard the Swann, the crew, and Hal, refer to Patricia as 'Trish'. And sometimes, 'Miss Leopard,' to ring the changes. Because, Cleopatra really does have a thing for leopard-skin decoration. Not real in this day and age, but faux fur. Nevertheless, her cabin is full-on leopard bedding, carpet and curtains. And her traveling companions, kind of like it. It suits her.
She also adores gold, and has a thing for snakes in her jewelry. But has to be careful not to wear too much, otherwise people might guess who she is.
As a result of the team effort, the Pope recovers, much to the amazement of the media, who had him down as a victim of the disease that takes so many humans every year. Much of which is down to the toxic environment mankind is making for generations to come.
...
THE HOLY COMPASS - CAST
| | | |
| --- | --- | --- |
| PROTAGONISTS | - | DESCRIPTION |
| - | - | - |
| | - | The world's most comprehensive digital interactive DNA database |
| | - | A brain implant that allows communications with digital devices |
| | - | |
| | - | An advanced solar & hydrogen powered trimaran ship |
| | - | The COLREGs compliant autonomous navigation system on ES |
| | - | The artificially intelligent AI onboard the Elizabeth Swann |
| | - | The Swann's weapons (Excalibur & Pendragon) targeting system |
| | - | The lead character in this adventure series |
| | - | The reincarnated, former Queen Cleopatra, Pharaoh of Egypt |
| | - | Computer genius, programmer and electronics design |
| | - | Storm's hybrid Cherokee 4x4, classic vehicle conversion |
| | - | The ship's cat, sacred Temple animals, Ancient Egyptian |
| | - | The Bishop Supreme, Catholic Church, The Vatican |
| | - | A brand of healthy beverages, John Storm is partial to |
| | - | UK's leading politician (Honest Johnson) a truthful candidate |
| | - | Supreme Commander, US military |
| | - | John's inventive genius uncle |
| | - | John's mentor, a solicitor with Swindles & Gentry |
| | - | An investigative reporter and good friend to John |
| | - | BBC TV worlds news service presenter |
| - | - | - |
| ANTAGONISTS | - | DESCRIPTION |
| - | - | - |
| | - | Chief Constable, Scotland Yard (corrupt cop) |
| | - | MI6, head of human enhancement |
| | - | CIA, sometimes double agent |
| | - | The world's richest, most powerful man (civilian) |
| | - | Italian spy Vatican & Interpol, double agent |
| | - | Cashiered, ex, US Navy Captain, snitch & mastermind |