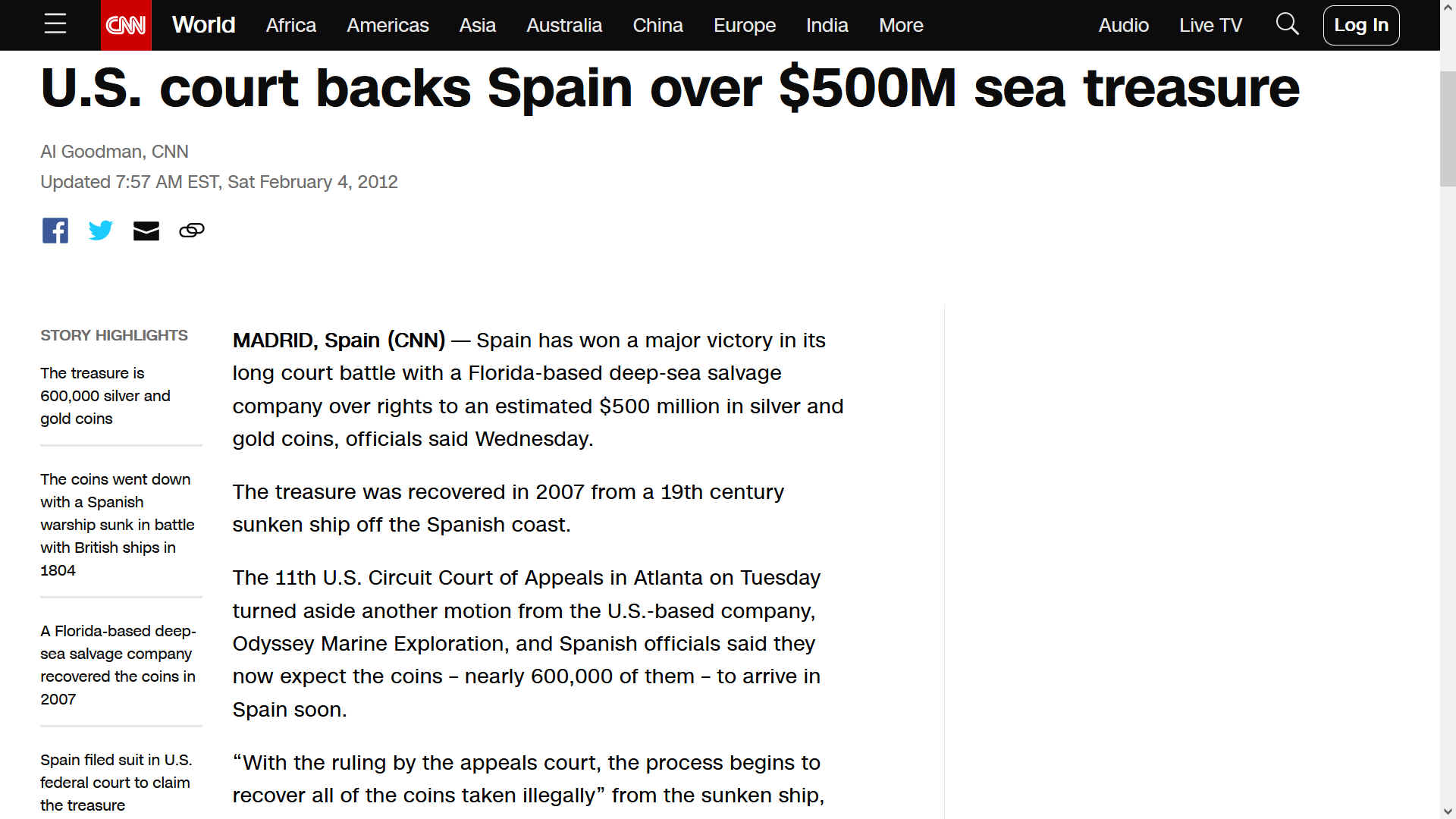 Spain won a major victory is a long court battle against Florida based Odyssey salvage company


Precious metals and gemstones were for many years the only way to store great wealth, such that it was transportable. Gold and silver coins were minted in standard weights, to denominate values, that, unlike today's paper and digital currencies, did not go down in value in real terms. Subject to the lackluster performance of administrations & applicable governments.
The four primary precious metals are gold, silver, platinum, and palladium.

Precious metals are elemental metals that have high economic value. In some cases, the metals have been used as currency. In other cases, the metal is precious because it is valued for other uses and is rare.

The most widely known precious metals are corrosion-resistant metals that are used in jewelry, currency, and investments. These metals include: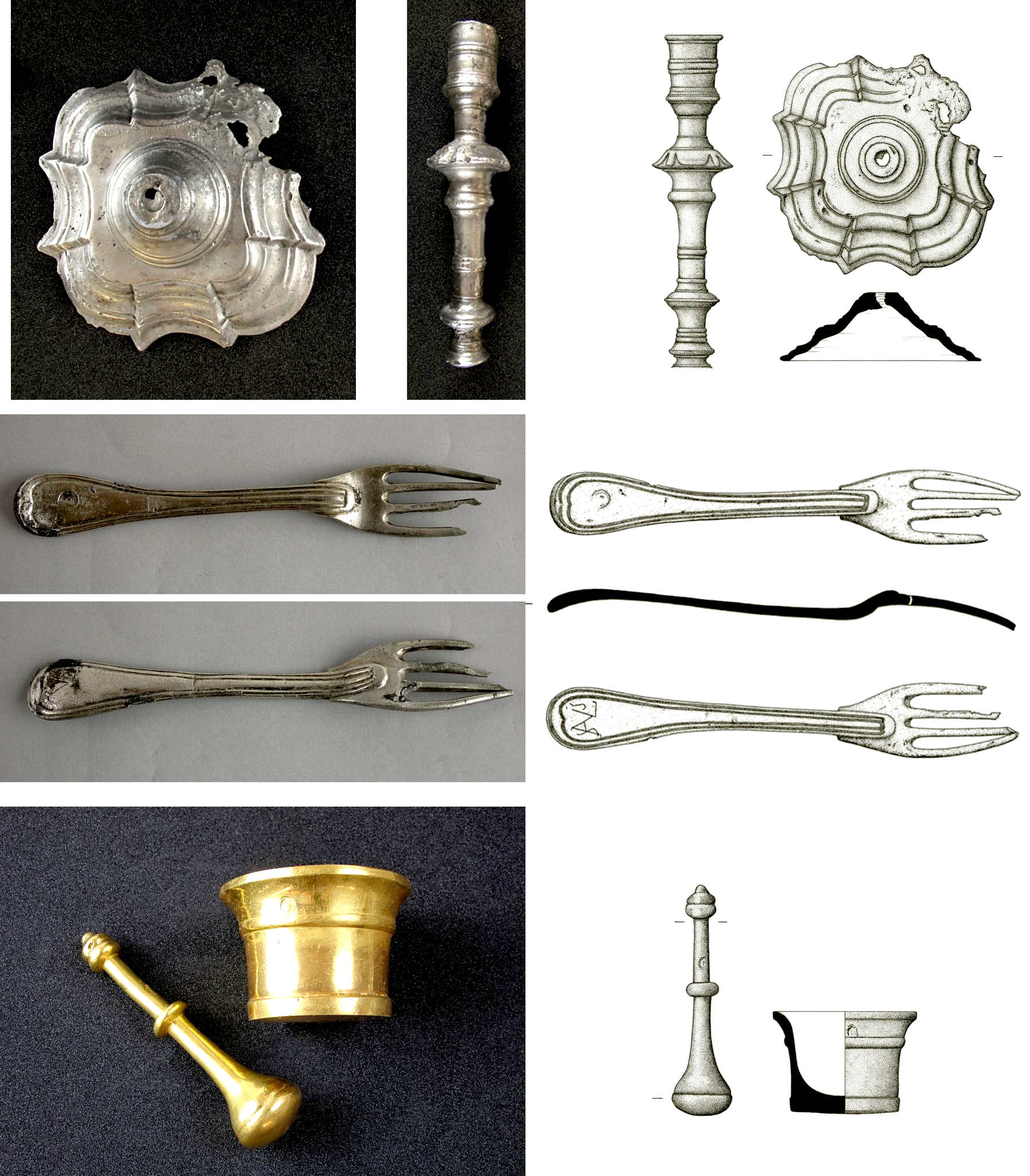 Gemstones are found naturally worldwide and are commonly used for ornamentation, with many people embuing religious symbolism, healing capabilities, and other meanings in them, such as birthstones. Whether diamonds, rubies, emeralds, or sapphires, each have their unique charm, with some stones being more valuable than others due to size, grade, colour and rarity.
Pearls are also something to behold.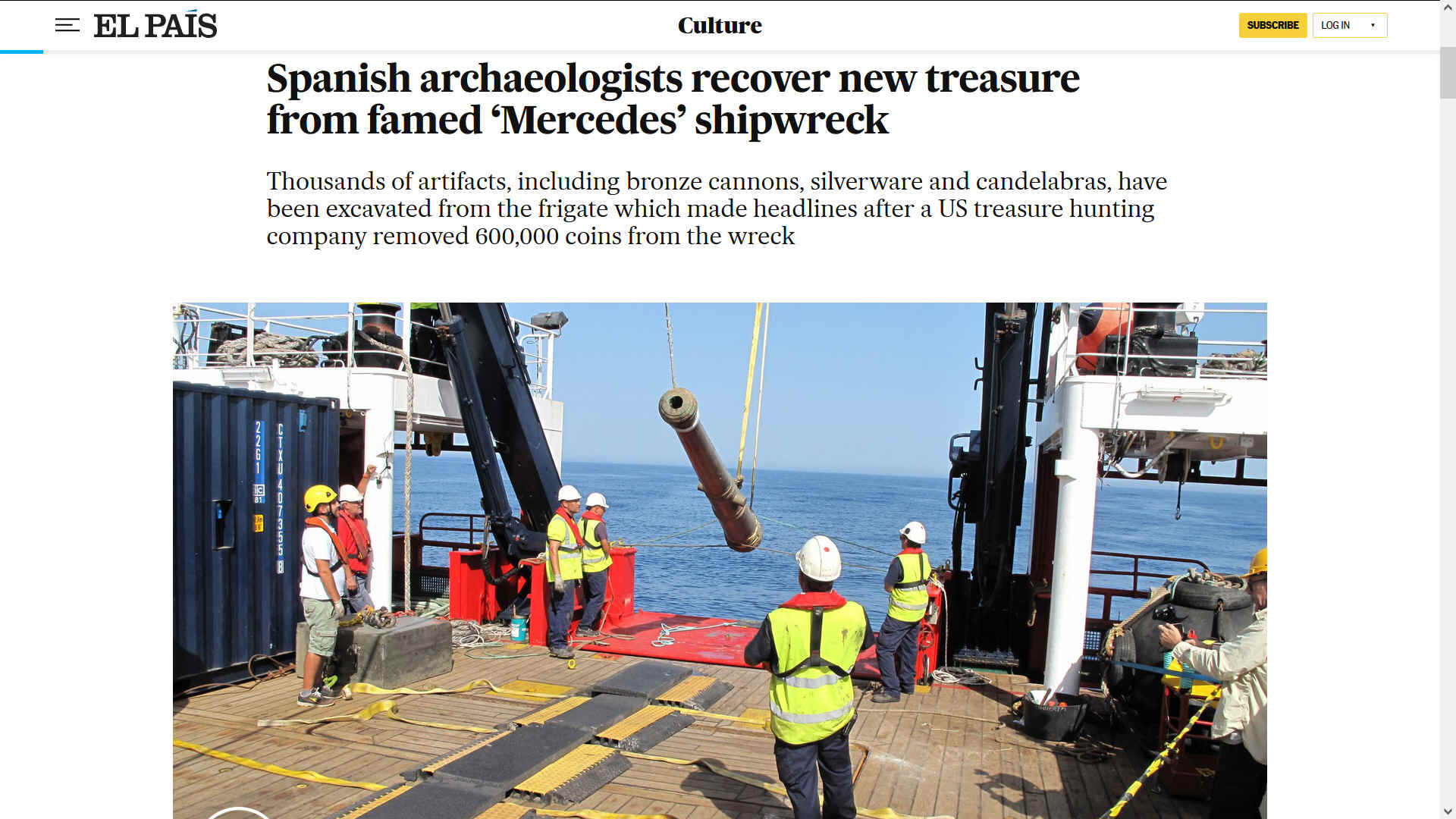 In 2012 Spain won a major victory in its long court battle against a Florida-based deep-sea salvage company over rights to an estimated $500 million in silver and gold coins.

The treasure was recovered in 2007 from a 19th century sunken ship off the Spanish coast.

The 11th U.S. Circuit Court of Appeals in Atlanta turned aside motions of appeal from the U.S.-based company, Odyssey Marine Exploration, and Spanish officials said they now expect the coins – nearly 600,000 of them – to arrive in Spain soon.

"With the ruling by the appeals court, the process begins to recover all of the coins taken illegally" from the sunken ship, Spain's Culture Ministry said in a statement.
Odyssey Marine Exploration's interest in the Spanish frigate was the cargo of silver and gold that it was carrying. That was made clear by the destruction caused by the company in the archeological area where the remains of the 275 people killed in the attack in 1804 lay.

From a legal and global point of view, Spain and its coasts are possibly the best protected and safest in the world with regard to the cultural heritage and looting.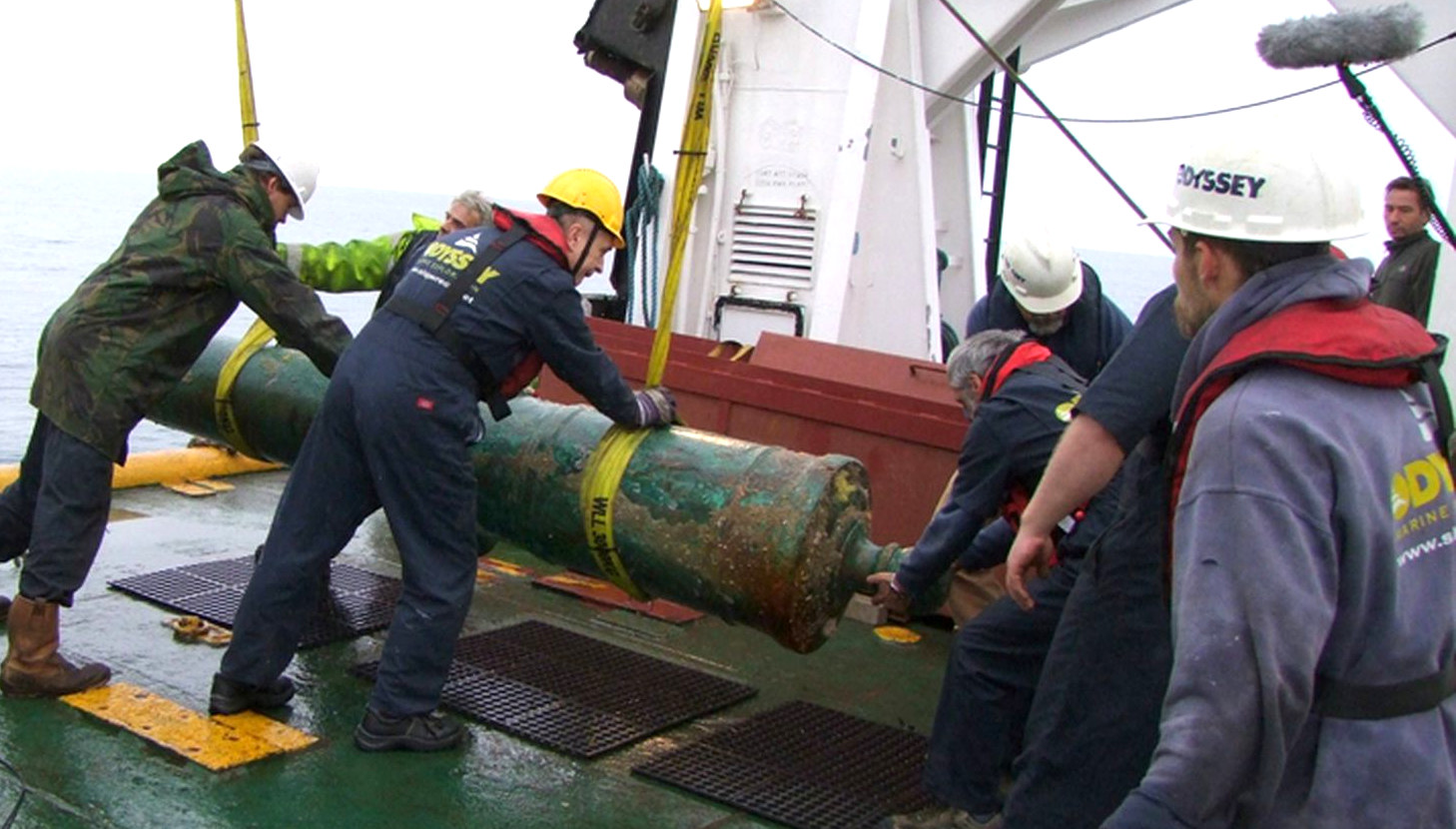 The battle royal began in 2007 when Odyssey said it had found the sunken treasure. It quickly laid claim to the coins, put them in crates and flew them to a discreet, well-guarded location in the United States.

Spain says its navy warship Nuestra Senora de las Mercedes was carrying the coins. The Mercedes, a 34-gun frigate, left Peru in 1804 and crossed the Atlantic to within a day's sail from Spain when British ships attacked the Spanish fleet.

In the ensuing Battle of Cape St. Mary, south of Portugal, the Mercedes exploded after being hit in its power magazine, according to the Spanish government's filing to the Florida court.

The federal court in Tampa in 2009 ruled in favor of Spain's claim to the treasure.


Spain believes that the main part of the nearly 600,000 coins are currently in Florida, Goold said.

He said the coins would be exhibited in Spanish museums.

Peru has also followed this case. The silver and gold came from Latin America when Peru was a Spanish colony. Arguably, the haul belongs to the nation of origin, from whence it was plundered.

The treasure includes a vast trove of coins, included fabled "pieces of eight," some minted in 1803 in Lima, Peru, Spanish officials said at a 2008 news conference.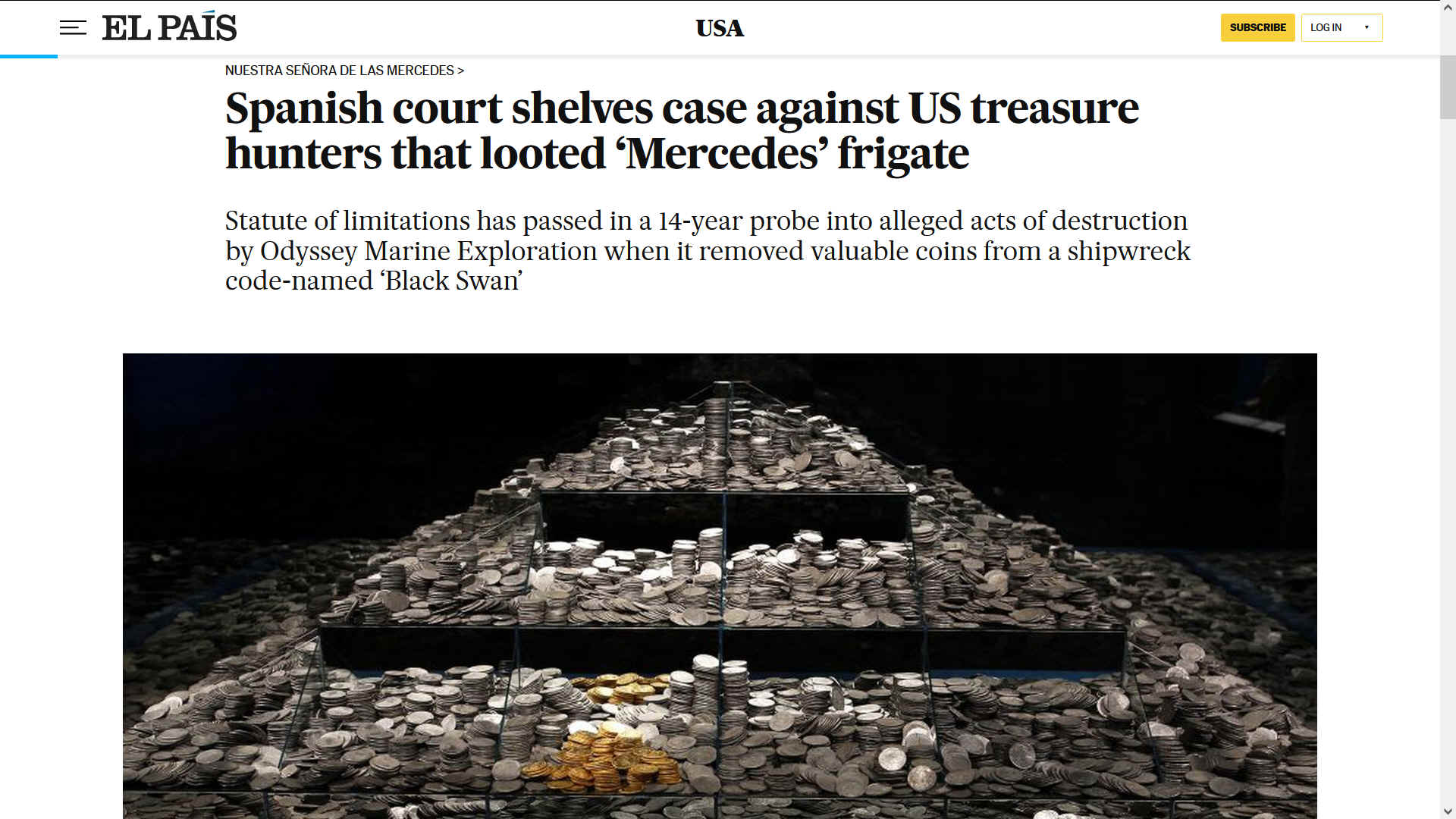 JOHN STORM'S TREASURE SHIP DISCOVERY
In this fictional series of nautical adventures, our marine conservationist, John Storm, discovers a wreck believed to have belonged to Henry Morgan, privateer, but unsubstantiated. On that wreck John discovers a haul of gold and silver. And chests full of precious stones; diamonds, rubies, emeralds and others laden with pearls.
Though Hal, the AI on the Elizabeth Swann, notes the position of the wreck carefully, John does not have a record of that location in his written Ship's Log. According to marine salvage law, he is under no obligation to disclose any information as to the contents of a vessel that he cannot be sure of. Indeed, John does not have time to try and locate the rightful owner(s) of any part of the cargo, let alone conduct a detailed inventory, to even begin such a mammoth task. Even the ownership of the sunken vessel is not known for sure. And John did not conduct a dive survey, by himself, or working with any other organization.
John had contacted several nations with a view to them helping fund excavations and recovery should he find the lost treasure of any pirate operating in the Caribbean. These communications including negotiations for a finders fee, under treasure trove law. But, those nations refused to reciprocate. Instead, they demanded information from him, and tried to board his ship in international waters. To no avail, the Swann is designed to repel all unauthorized personnel, thanks to his Wizard uncle, Professor Storm.
Regardless of the legal obstacles, several claims are filed against the adventurer, by Jamaica, Panama, Spain and United Kingdom, by way of SLAPP actions, hoping to get lucky, but none can be substantiated. The Courts eventually ruling in favour of John Storm, and their claims struck out as being worthless, the Claimant's demonstrating no Locus Standi, when challenged. John vanquishes the pretenders, with the able assistance of George Franks, of Swindles & Gentry, Solicitors, Melbourne & Australia. The Court awards substantial sums to be paid to John Storm, against what can only be described as a prosecution laden with malicious intent, by way of a Wasted Costs Order. Court's do not like time wasters, or those who abuse due process. Nobody is above the law!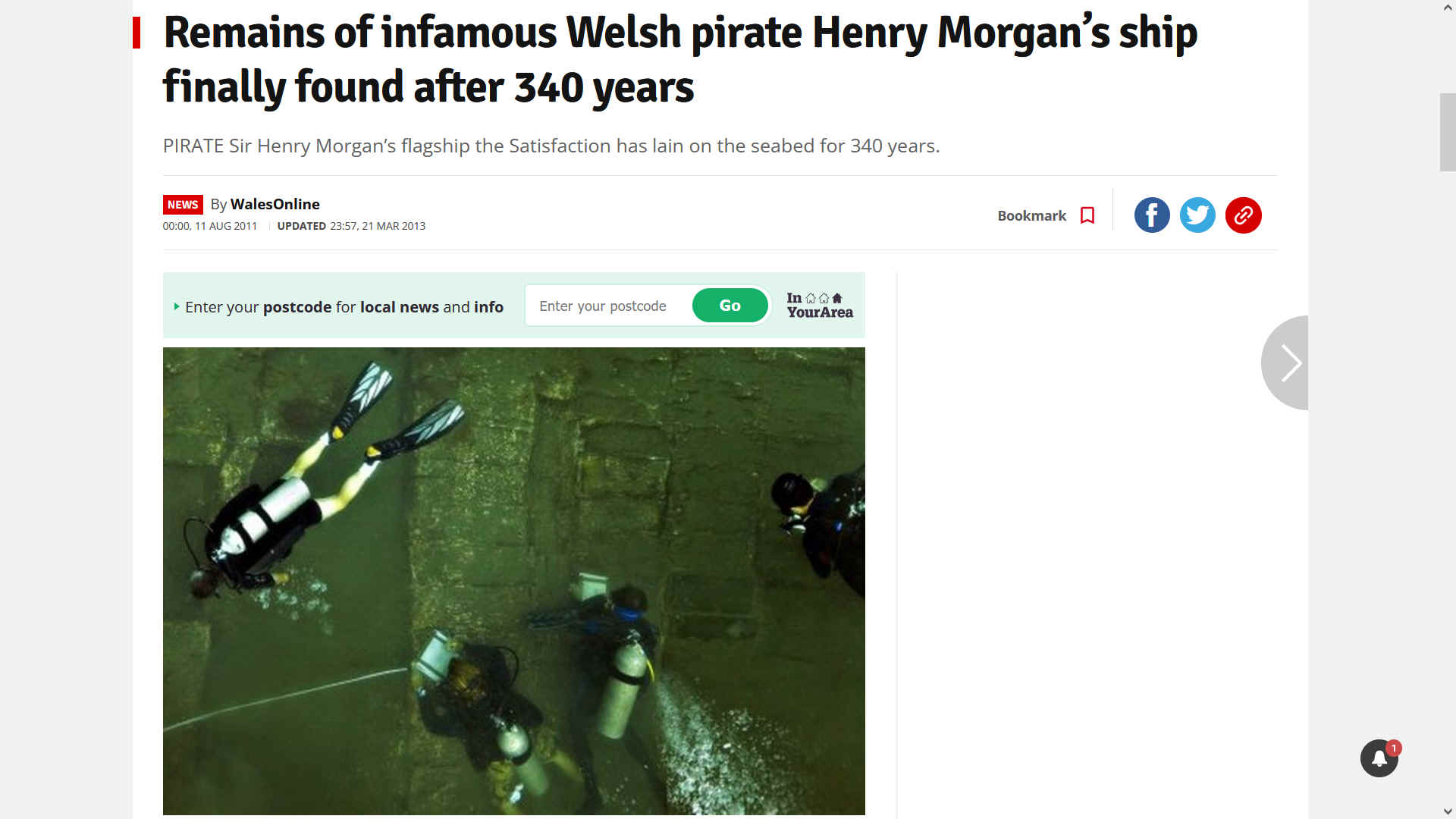 Divers surveying the 'Satisfaction' - Henry Morgan's flagship, discovered in 2011
REFERENCE
https://edition.cnn.com/2012/02/01/world/europe/spain-u-s--treasure-dispute/index.html
https://english.elpais.com/usa/2021-10-19/spanish-court-shelves-case-against-us-treasure-hunters-that-looted-sunken-treasure.html
https://edition.cnn.com/2012/02/01/world/europe/spain-u-s--treasure-dispute/index.html
https://english.elpais.com/usa/2021-10-19/spanish-court-shelves-case-against-us-treasure-hunters-that-looted-sunken-treasure.html